Meeting dear people in Subic and Manila | Feb.2014 Luzon Trip (4/4)
Hi, this is Kumi 🙂
Continuation of Luzon trip, this is final entry.
From Angeles to Subic, Php 140 (USD3) by a bus.
It was really good weather in Subic.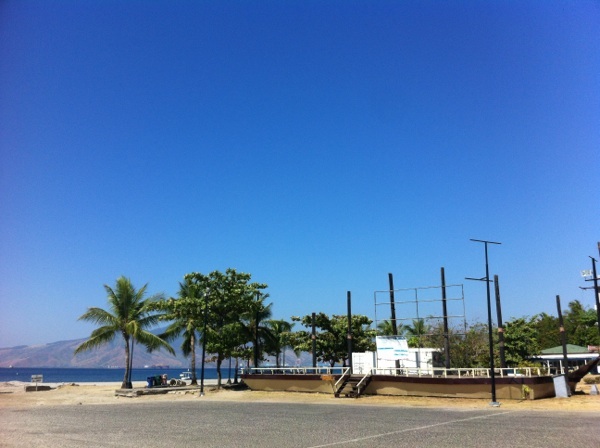 It was best weather for beach!, I arrived there in AM, so I wanted to go a beach but the beach near my guesthouse is prohibited to swim… :'(
I couldn't swim in Subic during this trip.
The guest house in Subic is good
"The Cabin", which I found on the internet just before going there, it seemed really new, very good cost performance 🙂 I was satisfied with it.
▼Free towel and soap!
▼So many double‐deck bed are there (mixed dorm). There are many private rooms also.
▼Bath rooms were so clean! It might be the cleanest bathroom in my experience in Thailand's and Philippines' dormitory. Hot shower!
▼It is like a log‐house inside, so cute.
▼Outside is also like a log‐house.
It was new and staffs were nice. If you are looking for a dorm in Subic, I can recommend this guesthouse 🙂 Private room's rate is Php 750.
If there are drawbacks, those are;
– I couldn't trust the locker (I could open two lockers with the same key…)
– There are no space to dry laundry, so it would be hard to stay for long. (And, it's mix dorm so it is difficult to dry underwear.)
A hangout for the first time
I met my previous coworker who lives in Subic for the first time in more than a year.
It was really good that she seemed so fine 🙂
We hanged out at a restaurant beside the sea.
It was a really delicious feast! 🙂
▼I was as if I were a marketing person in San Miguel…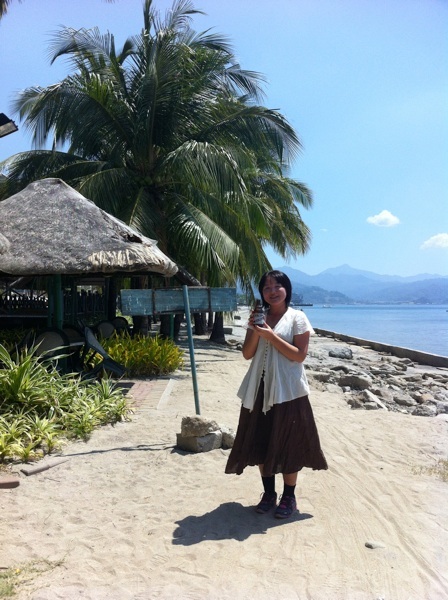 ▼It was really awesome to drink beer beside a sea in noon! I really like Pilsen's shape. I think young people don't know what is good taste when they prefer San Miguel Light to Pilsen because of bottle.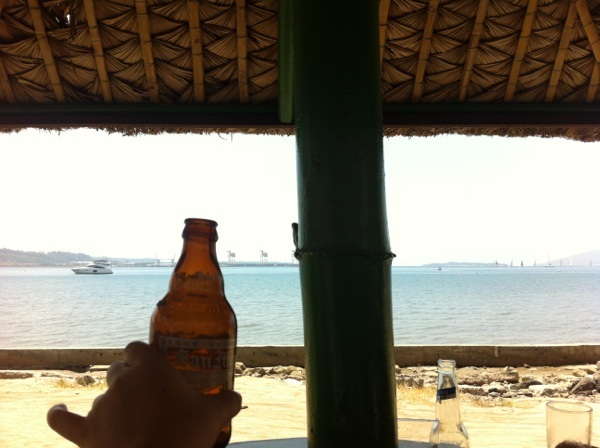 ▼It's really terrible there are just two restaurants in Subic on Trip Adviser JP, furthermore, the number one restaurant is Chowking…, but I found some restaurants which seem to be nice beside the sea. Maybe… there are few traveler  so there are few information?
Returning to Manila from Subic
By bus, the fare was Php 217 (USD 4.8).
In Manila, I could solve a problem which had been in my mind and made me regret for a long time. The dumaguete's candle might work…
▼I could meet my dear drinking buddies on the street! I miss you guys!!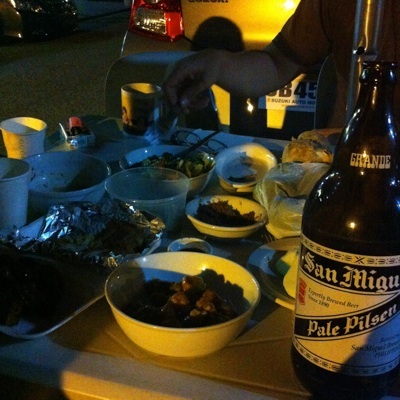 ▼It seems like potato but it is fruits! Like Japanese pears, good taste.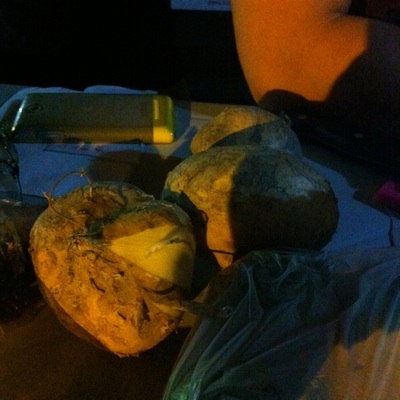 ▼"Kapatid" Ronald!Thank you so much to hang out again and bring me to the airport…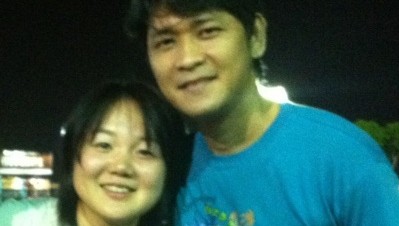 It was not my original plan (my original plan was going to Laos), just followed my friend, however I could go to unknown place in Luzon, solve my big problem and meet Kapatid (=brother in Tagalog) and friends. It was really awesome to go there.
Thank you my friend, Sayaka chan, for giving me that chance. I really appreciate it.
---