Thailand Prepaid SIM Cards Comparison (Updated 2017)
Here is how and where to get a Thailand prepaid SIM card, how to top-up (recharge), setting, and what data plan available.
If you use a local Thai prepaid SIM card, you can connect the internet just with 10 USD for 30 days, 1 Mbps fixed speed. It's rather cheaper than rental wi-fi routers in Japan! 😃
* This information is written in Nov. 2017. Please check the latest information on official sites of the carriers also.
* 日本語版はこちら : タイのプリペイドSIMまとめ!購入方法・AISやTrueのおすすめデータプラン・設定など(2019年1月更新)
Thailand Carriers of Prepaid SIM
The main carriers are 3 companies as below:
My friends who live in Thailand don't recommend me to use DTAC, I use only AIS and True.
Where and How to Get / Buy
Airports (Suvarnabhumi and Don Mueang)
You can easily get a prepaid SIM card at Suvarnabhumi or Don Mueang airport.
However, you can get only Travellers / Tourist SIM or SIM2Fly there.
"SIM2Fly" is my most favorite SIM card, special SIM card for global roaming. You can buy it at AIS shops in the airports. (2F of Suvarnabhumi and 1F of Don Mueang Airport, probably departure floors)
I will write an English article about that SIM later. (JP version : [周遊SIM]複数の国をまたいで使えるグローバル周遊SIM『SIM2Fly』、ヨーロッパ・アジア含めた60ヵ国以上で格安ローミングデータ通信できて便利です! – Kumi-Log)
Carrier Shops
You can find "AIS Shop" and "True Shop" in shopping malls, supermarkets or so on.
They help you to activate SIM cards.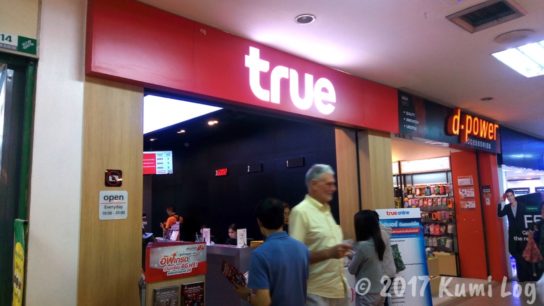 Digital Gadget Shops
You will see many this kind of shops. They sell not only smartphone items but also prepaid SIM cards too.
Some shoppers don't have enough knowledge, at that point, carrier shops are probably better.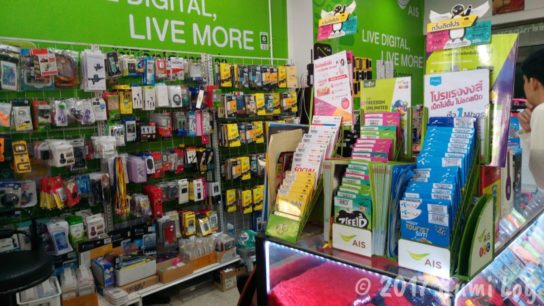 Convenience Store (7-11)
Do you know there are so many many 7-11 in Thailand?
You can buy True SIM cards there. (It may be changed because we need to register our passport for buying SIM cards in Thailand.)
You can buy it at Amazon.com
If you are anxious to buy it during travel, you can buy it on Amazon.com in advance. (There are only Traveller SIM or SIM2Fly, no normal SIM though.)
Kind and Price of Thai Prepaid SIM
There are many kind of SIM card in Thailand. For example, some SIM cards are specially for Music or SNS.
(ex. New SIM Packages : http://www.ais.co.th/one-2-call/simcard/en/)
There are for locals. Usually, for tourists, the purpose is mainly to use the internet, right?
In many cases 4G SIM is good and enough, however, there are some special SIMs which may be used by tourists.
Price of SIM card : usually 50 THB
Usually, only prepaid SIM card is 49 or 50 THB. If not, they would include some data or other plans.
4G SIM for the Internet
For example, this is True SIM. (I bought it at 7-11 in 2015)
The price is 79 THB but it includes 500MB free data.
It has a promotion, if you top-up (recharge) 200 THB, then you will get 500MB more for 7days.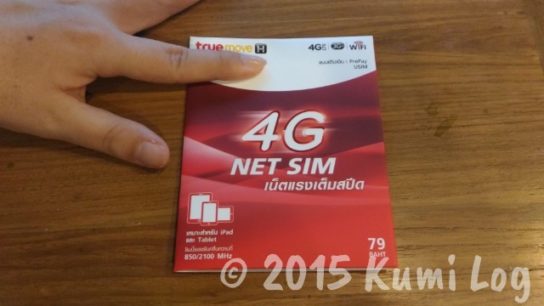 These are 4G SIM pages on the official sites of carriers.
You can add data plans. (See "Data Plan" of this article)
My favorites, "SIM2Fly", special roaming SIM
Recently I use "SIM2Fly", special roaming SIM by AIS. It can be used inside Thailand also.
I have an article to explain this SIM card but it's in Japanese. I will translate it later.
Some people misunderstand but we can use it inside Thailand too.
It acts as normal AIS SIM card.

Travellers / Tourist SIM
It's a bit higher price than normal SIM, but data plans are preset and it has some credit for calling/SMS already, easier to use than normal one.
AIS TRAVELLER SIM:8days 2.5GB 299THB / 15days 6.0GB 599THB (get slow if over data capacity / both include 100 THB credits)
TrueMove H – TOURIST SIM:8days 2.5GB 299THB / 15days 8.0GB 599THB (get slow if over data capacity / include 100 THB and 50THB credits each)
What SIM should I choose?
If you…
want to choose plan by yourself, no need to use SIM from airports, have experiences to use prepaid SIMs already: normal 4G SIM
will travel a lot of countries, have experiences to use prepaid SIM enough: SIM2Fly
want to connect to the internet immediately from airports, tiring to choose plans, or don't have enough experience to use prepaid SIM:  Travellers / Tourist SIM
About SIM2Fly, Asia SIM and Europe SIM have already preset roaming plans. I'm afraid if those plans would start inside Thailand… It may be better to consult to an AIS staff.
(I use it in Thailand after using the preset roaming plan up)
Data Plan (According to Duration, Data Amount or Speed)
What is and How to Apply Data Plan?
You can apply "data plan", in most cases it's rather cheaper than pay-as-you-use !
For example, about AIS 4G Net SIM, if as pay-as-you-use 1,000MB costs 210THB, on the other hand it's just 35 THB if you apply "1day 1GB plan", or 90THB if you apply "7day 1GB plan".
It's easy to apply data plan, just use the apps or USSD command by smartphones.
I use "unlimited-data and 1Mbps-fixed-speed" plan, it's 300 THB for 30days.
How to Choose Data Plan
There are many plans so you may feel difficult to choose…
It become easier to choose if you make these 3 points clear;
How many days will you use the SIM
How much do you consume mobile data for 1 day
How fast do you need
For example, if you are going to work with your laptop via tethering with your smartphone, unlimited amount plan is better.
For me, if I can use wi-fi at cafes or guesthouses, 100MB per day and 1Mbps are enough.
AIS Data Plan
You can see plans on the mobile app;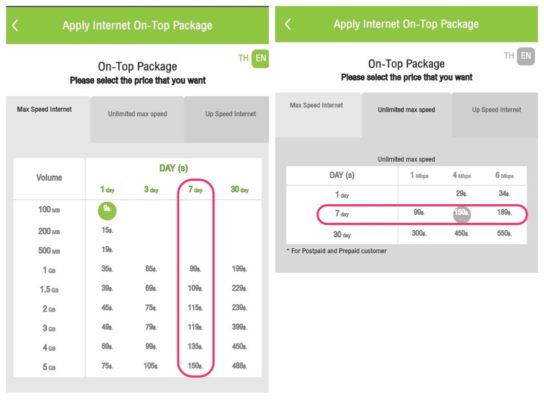 Unlimited-Speed Data Plan (Fixed Amount)
7days 1GB Unlimited-Speed 99THB
30days 3GB Unlimited-Speed 399THB (Other amounts are available, like 1.0 / 1.5 / 2.0 / 4.0 / 5.0 GB)
AIS Internet Max Speed http://www.ais.co.th/one-2-call/addon/en/maxspeed.html
Unlimited-Amount Data Plan (Fixed Speed)
7day 1Mbps Unlimited-Amount 99THB (Other speeds are available, 384kbps /512 kbps / 4Mbps / 6Mbps)
30days 1Mbps Unlimited-Amount 300THB(Other speeds are available, 4Mbps / 6Mbps / 300Mpbs (!)
Internet Non Stop http://www.ais.co.th/one-2-call/addon/en/nonstop.html
TRAVELLER SIM Preset Plan
SIM + 8days 2.5GB 299THB (include 100THB credits)
SIM + 15days 6.0GB 599THB (include 100THB credits)
True Data Plan
Unlimited-Speed Data Plan (Fixed Amount)
Data Amount Plan
All valid for 30days, after using the amount the speed will be slower like as 128kbps〜384kbps.
4G FASTNET 199:199THB/1.5 GB
4G FASTNET 299:299THB/1.75 GB
4G FASTNET 399:399THB/2.5 GB
4G FASTNET 699:699THB/5.0 GB
4G FASTNET 799:799THB/8.9 GB
Terms and Conditions for 4G FastNet Prepaid Customers USIM SIM Card 
Awwww it's difficult to understand True website… ><
TOURIST SIM Preset Plan
SIM + 8days 2.5GB 299THB (include 100THB credits)
SIM代+15days8.0GB 599THB (include 100THB credits)
One Day Plan (more useful than I'd imagined!)
Both of AIS and True has just one day plan, 24 hours 100-200MB as 9THB (0.28USD).
If you are going to other countries via Thailand, or just enter Thailand, little THB but want to connect to the mobile internet… In such cases, this plan is very useful. (Sometimes I'm in that situation on land borders)
There are not only 100 / 200 MB, you can choose other amounts.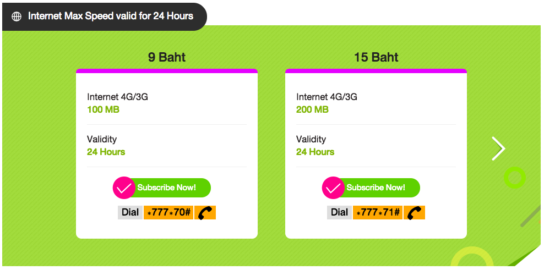 How to Top-Up (Recharge)
Top-up inside of Thailand
These are explanations on the official sites;
The ways what are familiar with us, tourist are;
At convenient store (7-11)
ATM top up (you can find it at BTS station)
Carrier shops
This is ATM at BTS station, Bangkok.
I failed to top up AIS at 7-11… it may be only for True???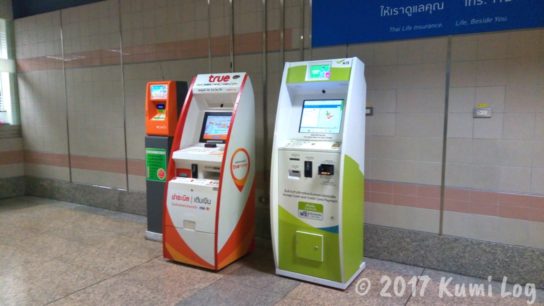 Top-up online, from outside of Thailand
The official online top-up system can work with only Thailand credit cards.
This is not official, please use it at your own risk.
This is Bitcoin version.
How to Extend Validity (max 1 year)
Extend by Top-Up (Recharge)
SIM itself has validity, aside from expire date of plan.
If it's over validity, it will stop working.
You can extend the validity by top-up.
It depends on how much you top up, for example, it'll be extended 30 days by topping up 50 THB. (Not proportional)
1 year max.
If you top up 50 THB every month, you can use it forever. (as the carrier is available!)
Pay the Fee of Extension
You can extend True SIM by paying the fee. (I still don't know if AIS has similar system)
To extend validity 30 days 2 THB:*934*30#
To extend validity 90 days 6 THB:*934*90#
To extend validity 180 days 12 THB:*934*180#
About Expired SIM
I have an experience that I topped up the expired SIM and it revived,
but I don't know carriers' rule… It's worth to try to top up expired SIMs. If you can, it means you can use it. (Sometimes we cannot top up expired SIM. It's sad but it seems to have been dead already…)
I recommend extending the validity before you go if you have a plan to use that SIM in the future again.
Mobile App
The Thailand carriers' app is very useful.
You can check Top-up balance, remaining data or remaining day.
You can also see and apply some data plans there.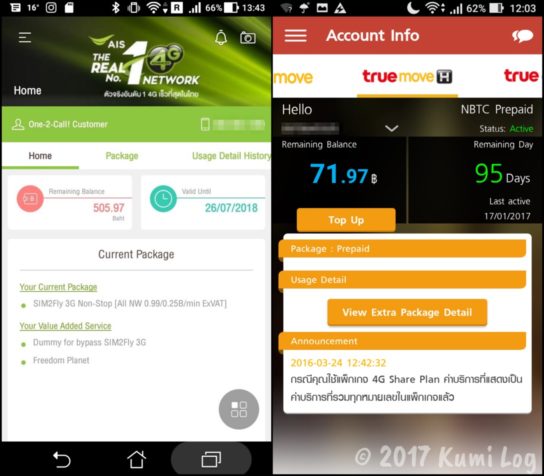 AIS app needs OTP login via SMS.
USSD command of Thailand SIM
USSD command is to check remaining data or top-up balance, to apply data plans or so on by pushing asterisk (*), numbers and sharp (#).
AIS USSD command
Remaining Data:*111*6#
Top-up balance and expiring date:*121#
True USSD command
Top-up balance:#123#
it's number:*933# または *833#
To extend validity 30 days 2 THB:*934*30#
To extend validity 90 days 6 THB:*934*90#
To extend validity 180 days 12 THB:*934*180#
USSD command Tips
It's convenient to save USSD command to your address book. (I use Gmail's)
These are examples of mine for AIS and True. 9 baht plan is useful for a sudden situation like just moment of  entering the country (Most of cases, borders of land have no internet, haha).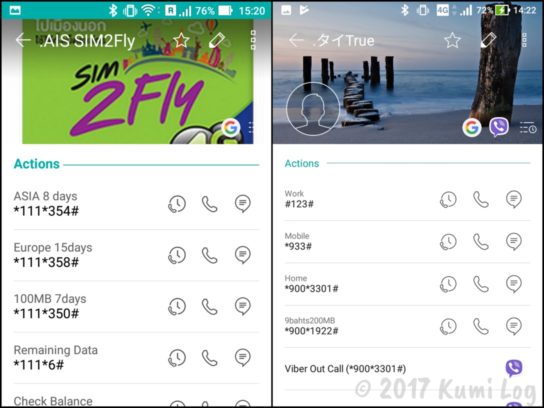 APN Settings of Thailand SIM
AIS APN Settings
APN:internet
Username : (none)
Password : (none)
True APN Settings
APN:internet
Username:true
Password:(none)
---